Received this set of products some time back. Was quite happy initially when I saw the name of this series. Sebum Care. I super need! Lol. Erm, sorry for the grainy image. :X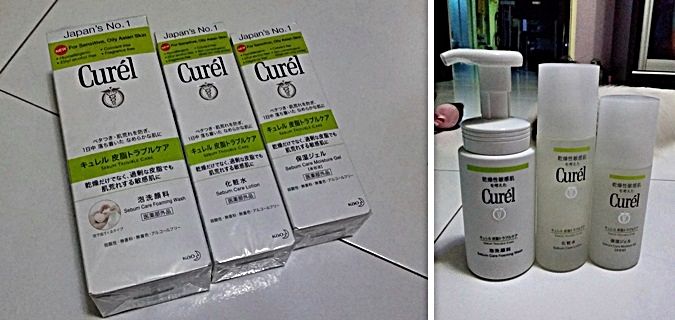 Curel Sebum Care Foaming Wash [$19.80/150ml]
Ultra fine foam with sebum solvent to thoroughly cleanse dirt and excess sebum while protectng ceramide.
I liked how nice and cool my skin felt after using this. Although I had to wash twice before it felt clean enough. Personal opinion.
Curel Sebum Care Lotion [$24.90/150ml]
Non-sticky formula prepares skin for better absorption of moisturiser / essence that is used after the lotion.
By lotion, it's actually toner. Absorbs quite fast.
Curel Sebum Care Moisture Gel [$34.90/120ml]
Liquid based gel spreads easily for speedy absorption into deeper layers of skin without leaving skin sticky.
It left my skin feeling slightly sticky and shiny.
Not much comments for these as it didn't work out between us. I broke out the next day after using this, so I stopped at once. But I thought perhaps the breakout was due to my monthly blood donation, so after a week or so, when my skin had cleared, I gave it another try. Same problem. :(
But don't let it scare you off. It's just me being unsuitable for this product. If you're worried, you can always redeem your Sebum Care samples
here
.