(Drafted this post during her LS period last year. But no treats = no toys = no photos. Hence the delay.)
Nina Ottosson (which, by the way, is her real name) is a range of interactive toys. She believes that dogs require both mental and physical activity and has therefore developed these dog activity toys to stimulate the dog mentally. To be honest, I think I'm also having loads of fun and mental stimulation just by watching silly girl play!
My first Nina toy! It's very common and popular, and probably the easiest to get here in Singapore.
It's a level 2/3 on the website but personally I think it's a level 1. Silly girl got it so fast! =P The first few times I did it without the white blocks, then with the blocks but had food under them so silly girl would take them off. Within 10 times I was using the center blocks without any food underneath. She knew she had to get rid of the center ones before the sides would slide open. I had thought this could occupy her for a longer period. =\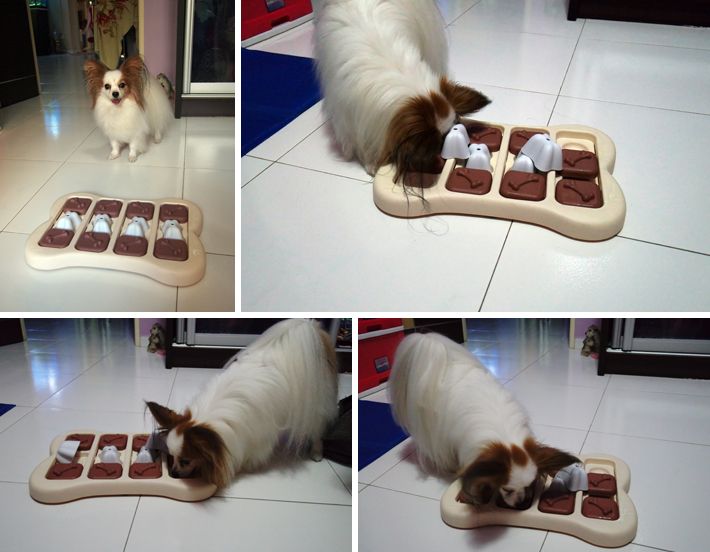 I think it's a good beginner toy to start the dog on IQ toys.
Rated a level 2. It has a similar concept with the dog brick, but also slightly different. Same same but different. Hehe. Instead of sliding the covers open, silly girl now has to rotate the levels to reveal the treat. You can start without any white blocks but I used all 3 of them the very first time. I thought it would occupy her longer this way. Unfortunately, she was only stumped for a while, before she figured it out and began removing the blocks directly. *sigh* Oh and it was a little smaller than what I had expected, so bigger dogs may have a bit of problem. =X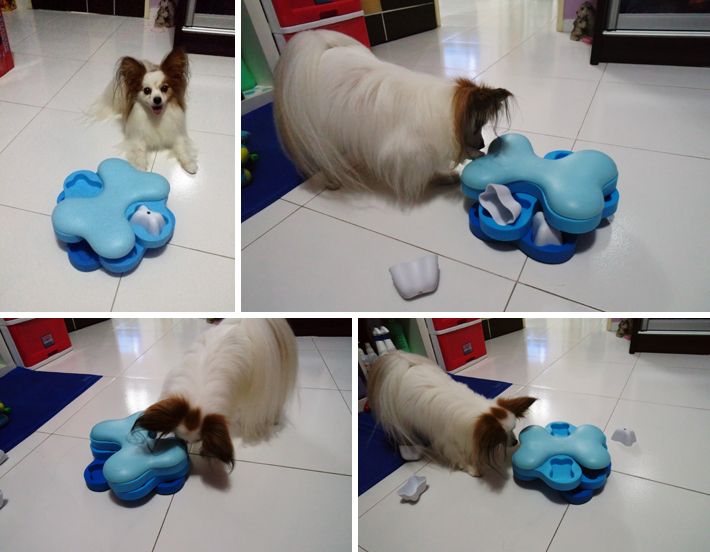 03 /

Dog Casino Plastic (~SGD 60.60)
I was anticipating this the most! It's a level 3 and I feel it's much harder than the rest because instead of simply pushing the white blocks away, silly girl has to pluck out the pins before the drawers would slide open. I had hoped it would provide her a higher level of mental stimulation, and it does!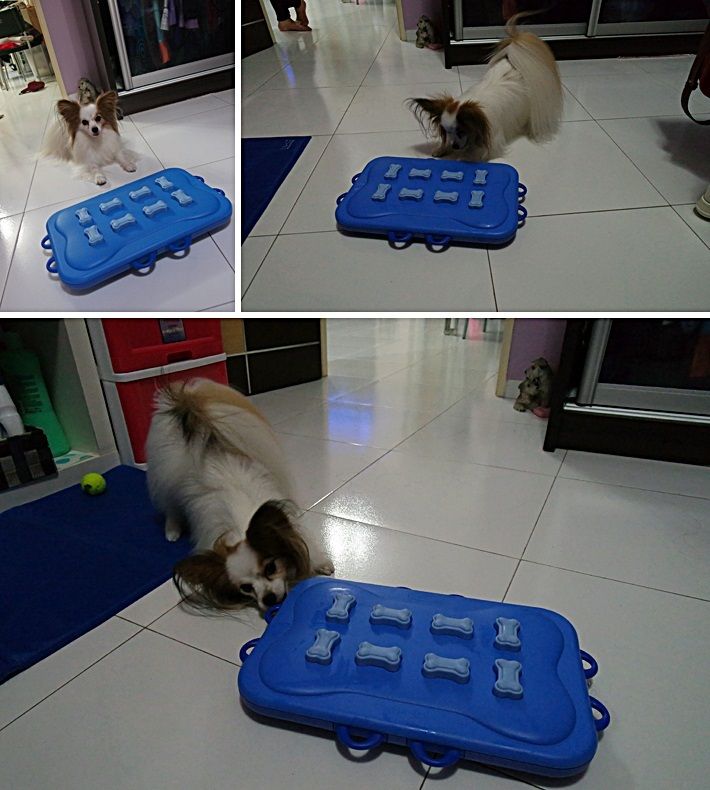 It's probably a level 10 for her lmao. She's still can't remove the pins by herself but she can handle the drawers! Guess she needs to use more brain. Lol.
04 /

Dog Treat Maze

(

free

)
I won this one from a UK-based competition so I was pretty surprised and pleased they actually mailed it over! It works in a similar way as her Kong wobbler, just that there's a maze inside instead (that is, if you know how the Kong wobbler works), so it's slightly harder.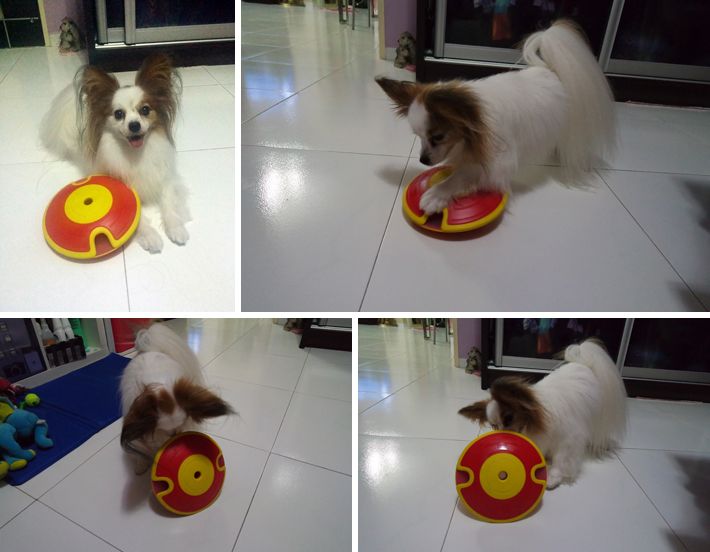 That's all! Silly girl goes mad when I take out any of these toys. Though I think she relates it to food instead of fun. One more thing I love about these toys are that they're easily washable. I think they have the wooden version but I wonder if it can
tahan
repeated washes. Hmmmm.
I really wish Nina Ottosson toys are more affordable and accessible. I bought mine from Amazon and it broke my wallet pretty badly, even though it's still about 10-20 bucks cheaper each than if I got it locally.
P/s. She also has the
Kong wobbler
and
Kyjen kibble drop
. Her toys are more expensive than mine. *sigh*
P/p/s. She's actually pretty scaredy cat and easily spooked. But when it comes to food, she drops all her defences. No matter how weird the thing feeding her is. Quite scary if some asshole decides to poison her. Tsk.