Okay this sounds like a really fun road trip but actually, we just crossed the causeway for shopping. Lol! SSD goes over quite frequently but it was more or less a first for me. (I know I suaku but I wasn't really keen on public transport. I still ain't keen.)
So the day started with a 1 hour plus queue at Kranji mrt. It was horrendous. The crowd at the Singapore customs was just as bad, but thankfully there were lots of counters so we crossed quite fast. The Malaysian customs was quite bad too. Everything was manual and there were lesser counters open. Quite pissed I would say. #igotnopatience.
Headed straight for KSL City. Cab fare was just RM5! Main purpose was lunch at the famous Soon Soon Heng Bak Kut Teh opposite, as recommended by SSD. No pictures cos I was super duper hot and sweaty and hungry, and we had to share a table. =(
The food was...... okay lor. Lol. We ordered the usual BKT (it was unfortunately the herbal type, not the peppery type I like), topped with additional button and enoki mushrooms, beancurd skin, and fish maw. Also got a bowl of salted veggies and fried you tiao. Bill came up to RM41. To be honest, I probably wouldn't come all the way to KSL just for the BKT. (P/s. Chopped chilli was the usual big tasteless chillies instead of padi. #petpeeve.)
Walked around KSL City. It was just like any other mall in Singapore, just a lot more carts selling handphone cases and cables. Quite...boring. =X
Cabbed back to City Square. This time we had to bargain for RM10 fare. Still cheap, but double our initial one. #nothappy. Browsed CS first and then the newly-opened Komtar Mall (with Angry Birds themepark). Quite boring too! The Angry Birds is just a larger (and more expensive) playground for kids. Not all shops were open at Komtar, and the floors shook. =X
Had dessert at Hui Lau Shan.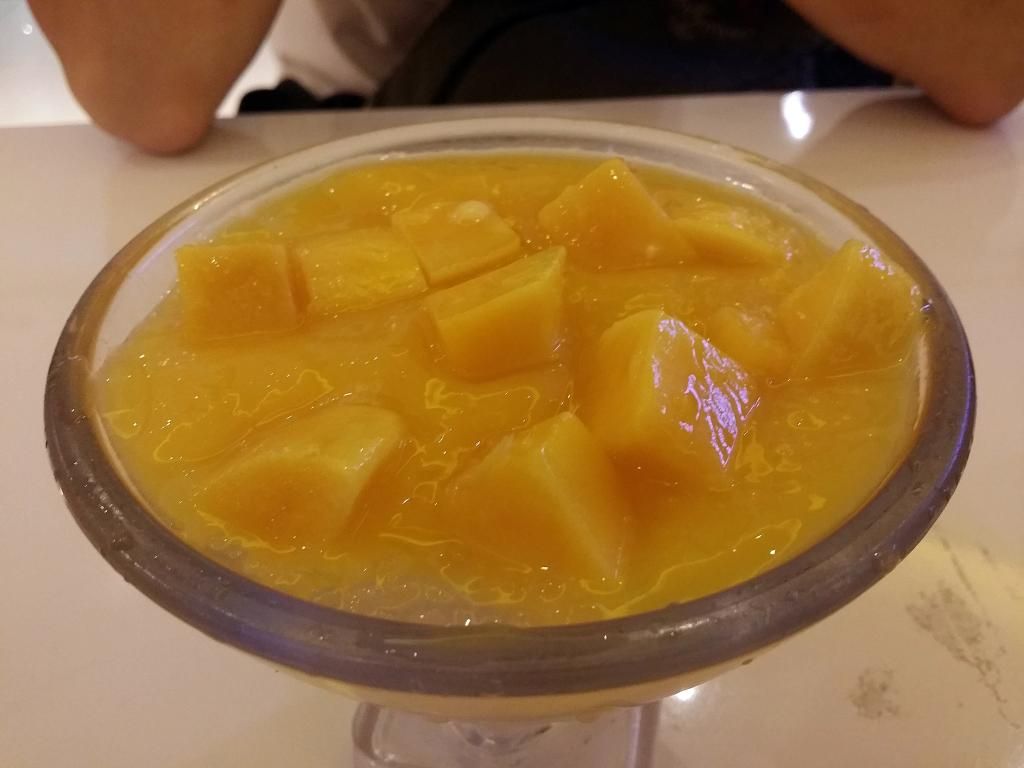 RM12 for this small bowl. And much too sweet. Definitely overrated. Tried HLS once in Hong Kong many years ago and never had it again. Now I know why.
Settled for early dinner at
Arashi Shabu Shabu
. Other than the RM5 dish of pickles which I never should have eaten, it was my best meal of the day. We got the seafood (RM29.90) and seafood/meat (RM32.90) sets, which came with rice. And topped up RM2 each for tomyum and herbal soup bases. Ordered additional cheese fish balls (RM4.90) too.
My herbal soup was absolutely yummy! The
dang gui
taste was pretty strong. I super likes! To be honest, the ingredients were mostly veggies and not exactly very filling (or worth it). But seriously, the herbal soup made up for it. And the cheese fish balls! Filled with yummy mozzarella (I think) cheese which melted when cooked. Careful when biting into it or it'll squirt all out! XD
There's 10% service charge and 6% gov tax, so total bill came up to RM90. Not as cheap as we initially thought, but...... the herbal soup makes up for it! Lmao.
And my loots! Okay lah I admit, my main purpose was just to get the contact lens solution. RM35 for a pack (3 bottles). That's barely SGD5 per bottle! Would have gotten more if they weren't so heavy. Or if we drove. =( Oh and my Westlife final tour DVD. Quite surprised I actually found it there. Don't really like the "西城男孩" though.
Overall, I'm definitely not keen to cross the causeway again! Lol.