wanted to wake up early in the morning to continue packing my almost-bursting cupboard. but i overslept. then went over to SSD's place in the afternoon. so paiseh. had lunch with his family. even more so paiseh. so very freaked me out lor. >.<
came out again after a while and headed for bugis together with his sis. walked around parco and village. i think main purpose was to help me find my new year clothes but nothing really caught my fancy. and the crowd was horrendously huge. so....not much mood liao. lol.
then went for my manicure session at this small little shop called summer sweet nails at bencoolen. first time! lol. was abit hesitant initially cos PL had told me the full set of extensions were $68, only for me to find out $68 were for overlays only. i broke a nail last week (if you didn't know) and snipped all the rest short. so overlays would be pointless. extensions cost $30 more. -_-
but in the end i decided to go for it since i was already there and i didn't want short ugly nails for CNY.
i would have got SSD to help me take photos, but his sis was also there doing her pedicure. quite paiseh. lols. very interesting procedure. lots of cutting, buffing, filing and i have 4 layers of hardened gel on my nails. lol.
design wise, i chose the silver glitter with 3D art on both thumbnails. tada~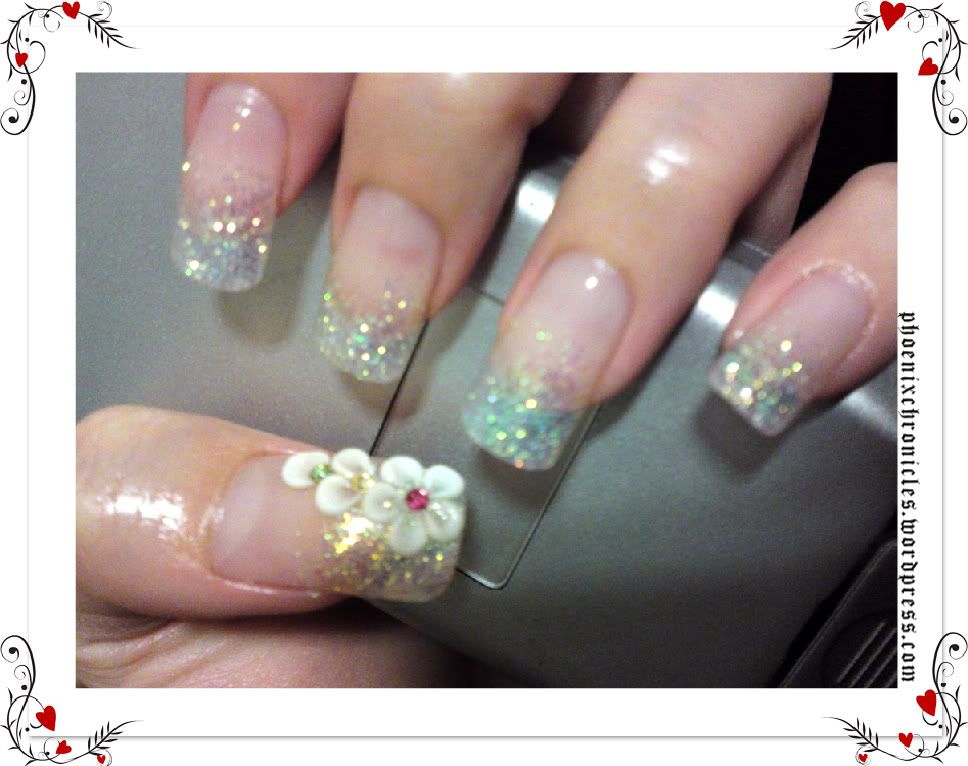 love the flowers!
i know it probably doesn't look very nice in the photo, but it looks quite okay in real life. although, being the perfectionist that i am, i can still pick out a few flaws here and there that i'm not quite happy with. plus, it isn't exactly comfortable, though i'm hoping it's just a matter of getting used to.
still, i can't wait till my real nails grow out as long as this. then it's good riddance to fake nails and the heartache that comes along with spending so much money. hais.
0127