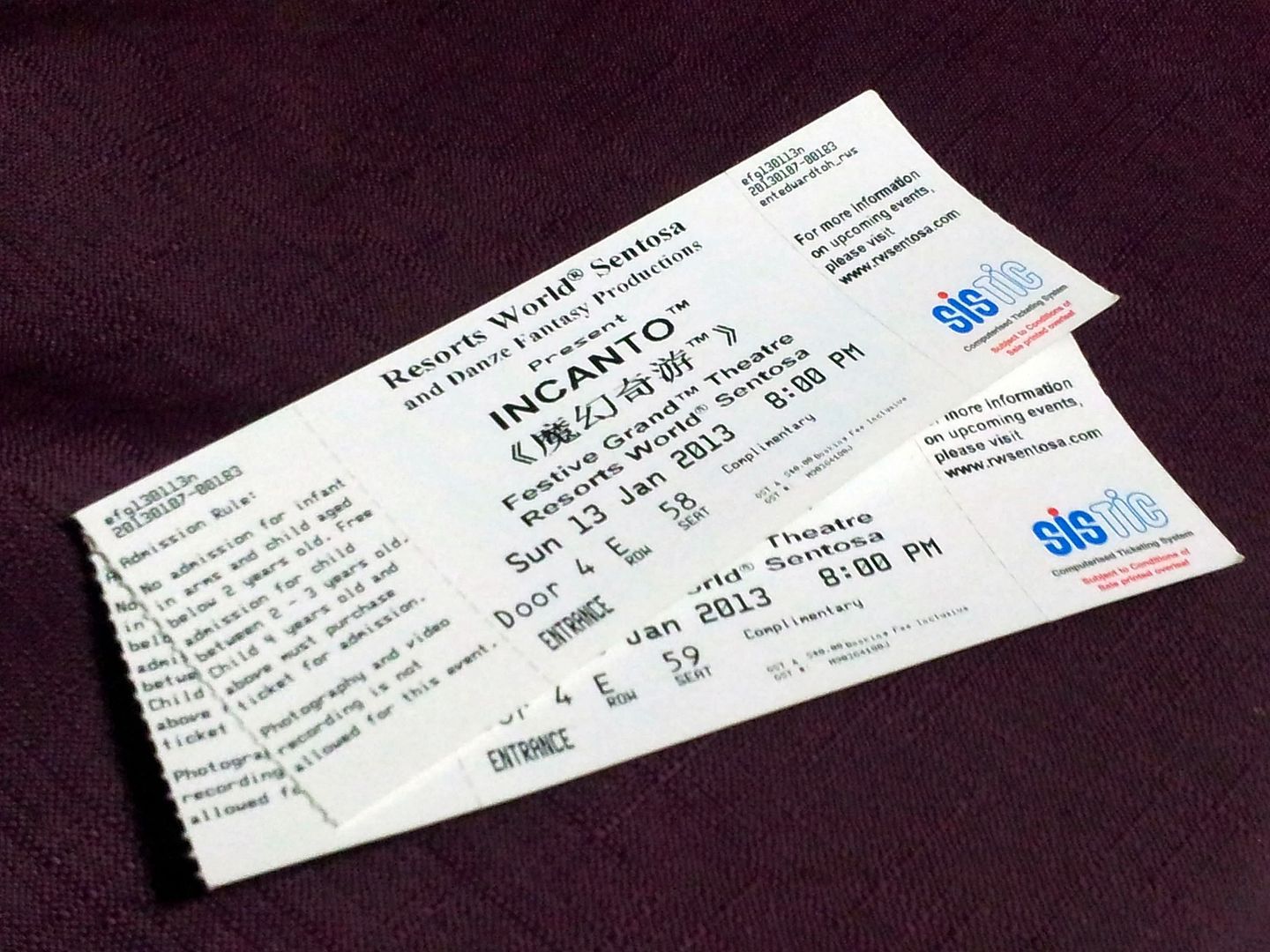 i've been to a couple of shows like this and honestly, they were more or less the same. floating stuff, flying people, impale rods and sawing people into pieces, plus acrobats hanging here and there. i wouldn't pay to watch one. so when zhu had 2 tickets to
incanto
and invited me, i took it as more of a girly night out than to watch a magic show. and furthermore the tickets were supposed to be a whopping $98 each. 不看白不看! but i'm so glad i went!
firstly of cos, is the girly night out. haven't felt like this in quite a while, and i actually wore heels out even when i know it would hurt like mad lol. wish it was a saturday though. i miss hanging out at night! anyway, brought zhu to my favorite restaurant in vivo - imperial! hope she enjoyed the food, cos i did! XD
then we headed into sentosa. spotted some of the performers at the entrance and
i
we spied one pretty good-looking eye-liner-ed angmoh. and i knew i was going to enjoy the show. MWAHAHAHAHA! there was also an optic illusion on display, the same one as the body-less exhibit at the science centre. but it ended before i got the chance to snap a pic.
see how close we were to the stage? 5th row only! kinda worried actually cos i had heard they would pick volunteers lol. but also maybe it was because of the distance that i enjoyed the show so much. like the tricks and acrobat performances were happening right in front!
although i knew these were explainable tricks, it still amazed me since i never figured out how they did it. my favorite was probably the sorcerer's entrance. i share share a bit ok? this mini-boomlift lookalike came out and instead of a basket at the top, there was this clear 'container' (can't think of another word for it). it was hovering above the first row of audience seats. the container started fogging up and when it cleared he was inside already! and one more one more! the same old impaling spikes trick but when the spikes came down, he disappeared from the stage and appeared in the midst of the audience. i was honestly wow-ing in my mind lol.
i was actually wondering why the acrobats were asian but the dancers were angmoh, then i read up and realized the acrobats are from this shenyang troupe instead. =\ anyway, their performance was quite normal except for the big spinning wheels thingy. quite heart-stopping to see them blindfolded and skipping on the revolving wheels, especially when they were stumbling (probably acted though). another moment which freaked me out was when they were jumping through these hoops and one big one came flying off the stage. it landed on the seat in front of me! tsk.
there were also super hilarious moments, as well as fireballs and fog and fireworks so it made the whole show pretty exciting! never thought i'd enjoy a magic show like this. and both of us (i realized) were also looking out for the good-looking eye-liner-ed angmoh. ROFL! and then after the show, there was this meet-and-greet session with the sorceror (joe labero), but we went to the ladies and missed the chance. he's pretty good looking (in person) actually. *sigh*
anyway i found this
video
. you can see a little of the performance at the back. so, thanks babe for the invite! and please pass me jeff chang's tickets if you get them. =)