One of my favorite sponsored products! Came at a really good time cos I was having this dull lingering ache in my back teeth recently.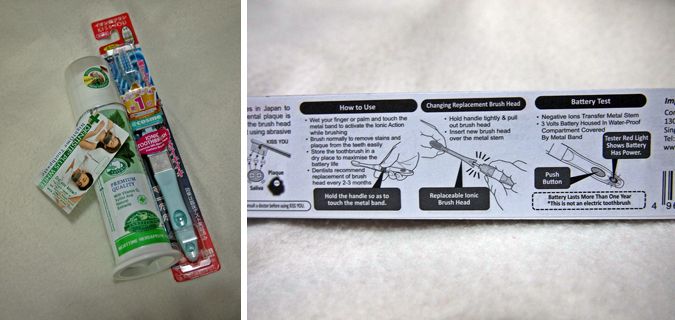 Dentiste Plus White Nighttime Toothpaste ($10.00 / 100g)

I'm pretty sure everyone has morning breath. So common that it has probably become the norm already. But it can be reduced or removed! The bad breath in the morning is actually caused by anaerobe bacteria which grows very quickly in the night due to a slower flow of saliva. Regular toothpastes are unable to effectively control oral bacteria, unlike Dentiste, which claims to be the only effective night-time toothpaste that controls bacteria and gives fresh morning breath!
It contains:
14 natural extracts which are naturally antiseptic and antibacteria (like sage, peppermint, cinnamon etc)
Xylitol - natural taste enhancer, creating an unwelcome environment for bacteria
Cyclodextrin Complex - traps up bad bacteria
Stable Vitamin C - increase antibodies for healthy gums
Micronized silica complex - soothes sensitive teeth
Comes in a really cool pump bottle too!
PS. You can redeem your free Dentiste Plus White sample
here
!
Kiss You Ionic Toothbrush ($25.00 each)

This is really cool. It claims to be the most advanced toothbrush in the world! No it's not your regular or electric toothbrush. It's an IONIC toothbrush! In simple terms, it works by temporarily reversing the polarity of tooth surfaces. Plaque molecules are then repelled by the teeth and drawn to the toothbrush. Clinically shown to remove up to 48% more plaque! So cool right?!
It actually comes with a metal piece in the middle where we have to touch to 'activate' it. It's also battery-operated (to release the negative ions), and has replaceable brush heads.
My take: I used both products together so I'd just have to review them as a 'package' since I'm not sure which one did the job. Anyway, within days after using them, the dull ache disappeared. Saved me some dentist money, though I know it would be better to visit one still. 2 weeks later, not sure if I still have morning breath, but my mouth feels cleaner, both after brushing as well as in the morning. Not much of a whitening effect though.
Where to buy:
Dentiste White Plus - Watsons, Guardian, SaSa, Nishino, OG, CGH Pharmacy, Mount Alvernia Pharmacy & major retailers
Kiss You toothbrush - Watsons