If you don't already know, Bio-essence is by far my favorite brand of skincare and makeup. I've purchased and re-purchased their BB cream, and have also reviewed their
miracle water
(and am still using it everyday). And look! more BE goodies for mee!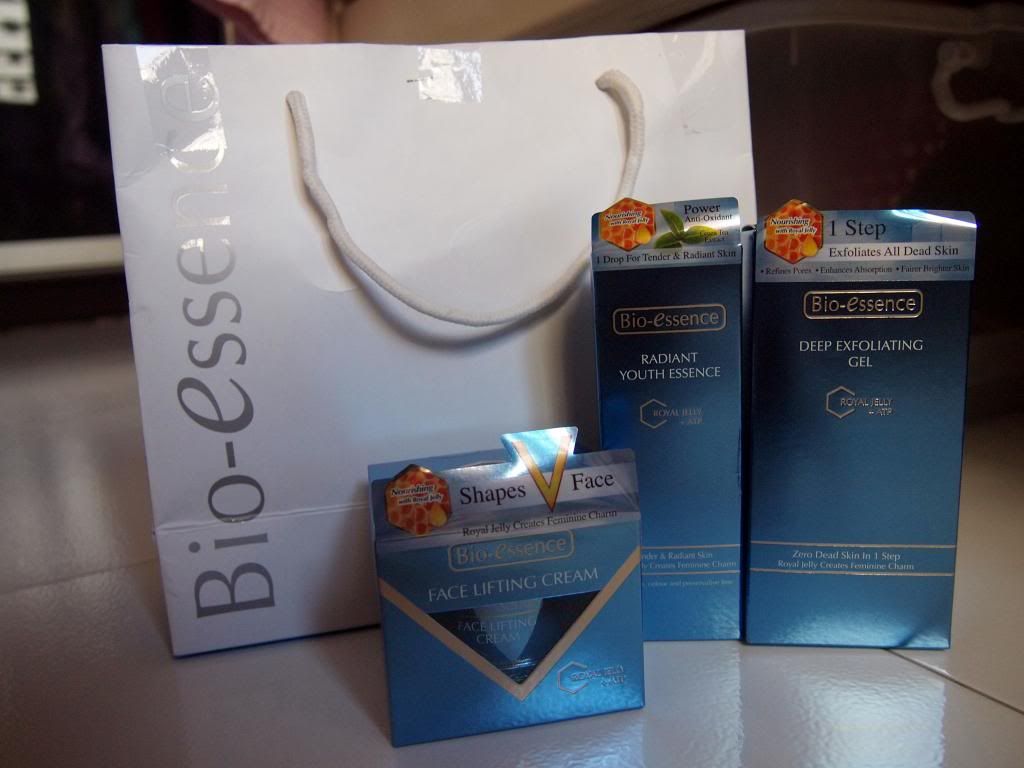 Not 1, but 3! It's the 三宝 from the Shape V Face series - (L to R) Face Lifting Cream, Radiant Youth Essence, and Deep Exfoliating Gel, all with royal jelly and ATP.
ATP is known as the "energy currency of life". It improves micro circulation to facilitate the renew and repair of our skin cells while restoring suppleness, radiance and firmness. In other words, anti-aging! Which I actually desperately need lol.
Face Lifting Cream ($49.90)

It claims to have marvelous benefits such as:
1. Lifts facial contours
2. Firms sagging skin
3. Reduces double chin
4. Contracts pores and refines skin
5. Reduces appearance of aging lines
6. Deeply nourishes and moisturizes skin
7. Reduces visible fine lines and wrinkles
8. Shapes V face, enhancing feminine charm
Sounds too good to be true eh? I was quite skeptical of this product actually, cos I've read many reviews of heavy breakouts and how the results don't last. But there must be a reason why there's over 6 million bottles sold (or so they said) right?
My take on it
: I hate tubs like this. It's really not hygienic to dig into the tub of cream every day, nor do I like the cream going deep into my nails when I do that. Therefore I use a q-tip, which makes applying it kinda troublesome. I also use it only on my chin and neck, just in case it breaks me out. As such, I didn't really bother measuring before and after. I don't quite think it would make a difference since I don't feel any heating sensation at all. The cream is not as heavy as some complained, but I didn't like the smell. It's very......chemical-ish. Lol. Am rather disappointed I must say. (But I'll still use it lah.) :(
Radiant Youth Essence ($38.90)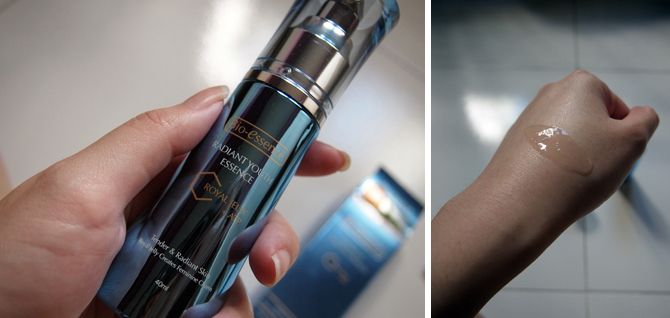 It claims to contain 95% green tea extract which is super anti-oxidant to protect the skin against signs of aging. It also keeps the skin supple and hydrated.
My take on it
: It's oily upon application, but at least they acknowledged it by stating it's normal and will get absorbed in 1 minute. I didn't monitor how long it took but when I woke up my face wasn't oily. Probably my favorite product in this range, cos my skin does feel slightly better the next day.
To be honest, with the photoshoot in a couple of months and the ROM in October, I'm beginning to feel kinda desperate to do whatever I can to improve my skin condition. I know there's photoshop, but still. *shrugs*
Deep Exfoliating Gel ($32.90)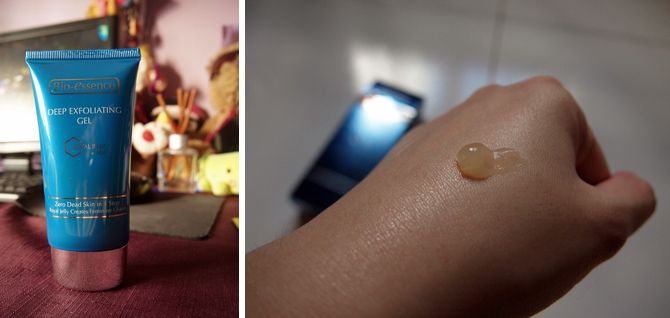 Benefits:
- Exfoliates blackheads and whiteheads
- Exfoliates dead layer of skin
- Brightens dull skin
- Regulates and balances oil secretion
- Prevents pimples
- Lightens scars and pimple marks
My take on it
: It smells pretty herbal lol. I like using gels like this because I really can feel that my skin becomes cleaner. But the downside is both my hands and my face have to be dry for it to work. Kinda troublesome when I use it during bathtime. But anyway, it does work to remove the dead layer and skin becomes smoother. I like!
Bio-essence now has an
UNLOCK YOUR FEMININE CHARM
facebook game where you can win daily prizes!