Did you know that our body's collagen level decreases rapidly after the age of 25? Well unfortunately I'm past that age and it's been awhile since my collagen powder supply ran out. So I was absolutely delighted when
Sample Store
sponsored me a box of it.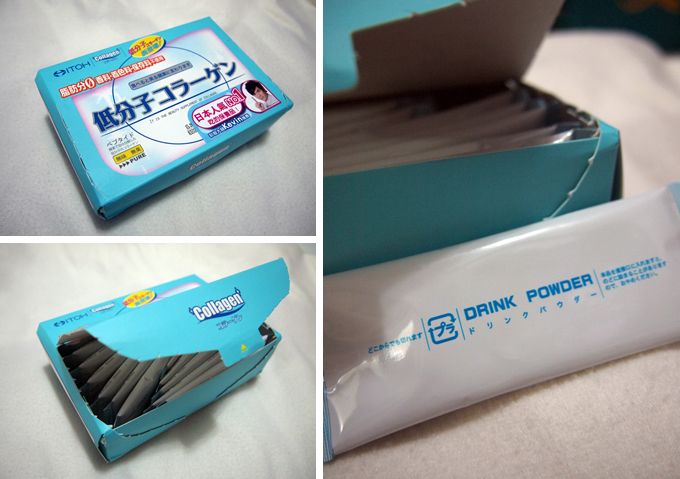 Each box contains 14 sachets and each sachet has 3000mg of collagen powder. It's color-less, tasteless, non-sugar, and non-fat, and can easily be dissolved into any drink or soup.
Some Q&A...
Where is the collagen extracted from?
Our low molecular collagen powder is extracted from healthy pigskin and cartilage, which are tested by Japan SPF standard. Besides, fat and gelatin are removed through high purification technology. Hence ITOH collagen is safe and tasteless.
How to apply in daily life?
ITOH collagen can be added directly to hot soup, food or drinks such as coffee, juice, milk or water.
Is there any suggested dosage / intake per day?
Take 1 - 3 sachets per day. This collagen is approved by FAO and WHO, making it very safe to consume.
When is the best time to consume collagen?
Take it on an empty stomach any time. The best time to consume is before sleeping or with an empty stomach.
How long will one see results from consuming ITOH collagen?
As ITOH collagen is formulated through high purification, it can be easily assimilated by our body system. Hence, result is usually visible after 1-2 weeks. But it may vary with individual.
Who needs collagen?
ITOH collagen is natural and free of chemical compositions. It's suitable for anyone except vegetarians.

My take on it: The individual sachets make it very easy and convenient. Most of the time I mix it together with my tea at night but if I forget, I can always take one along to work and mix it with my morning coffee. I wouldn't really recommend adding it to water though. I tried that once and although it's stated tasteless, it wasn't. =X I also like that it's non-fat, very important since I've very unfortunately put on a couple of kgs since my ROM. T_T No visible results yet since I've only been taking it for a few times (rotating with another collagen product; review coming up soon too).
ITOH Collagen Powder is available at Guardians for $49.90 per box.