Last day in Taiwan! Damn sad. Our plan was just Xi Men Ding, so went searching for breakfast nearby first. Settled for this uninteresting noodle shop, but it was quite good! And cheap too. Sorry my 炸醬麵 looks very unappetizing. =\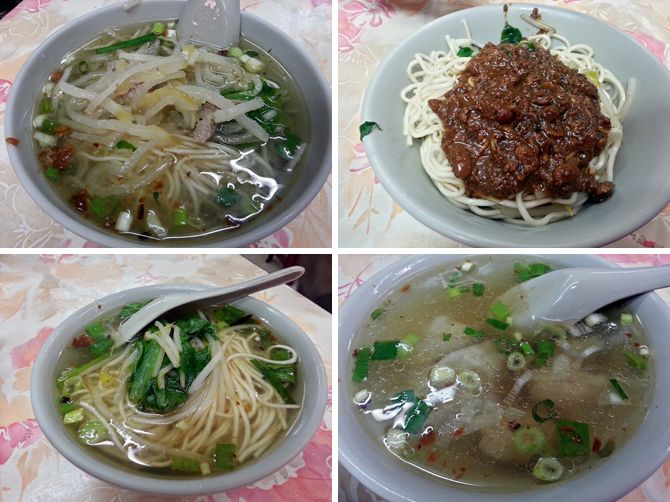 Xi Men Ding is just one metro stop away, at Ximen Station. Had lots of people shopping there considering it's a Friday morning. These people no need to work? =| Then shopped around lol. Quite boring IMO since the stuff there is considerably much more expensive than elsewhere.

Headed straight for Ah Zong's. I kept hinting SSD to have another bowl before we left, but he don't want. So sad. And finally had him try the famous 嚎大大雞排. We didn't have that the other time cos the queue was too long. And yes I ate that. Quite a lot even. =| And my last 炸蛋蔥油餅. I know it's just roti prata with egg but somehow it tastes so much nicer.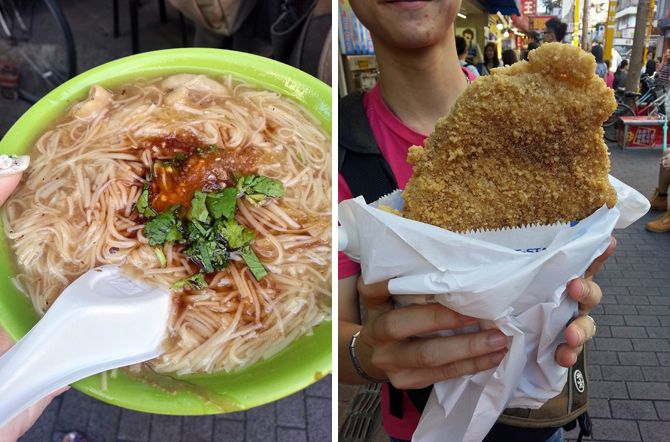 Went to get braised duck wings before heading back to the hotel. Side note: it was my second time getting these since my family seemed to like them. Quite expensive but they're rather big. And they have the frozen ones which can last for about 8 hours thereafter. But if you get them, do make sure to check. My MIL got a box too and subsequently found out they had packed chicken gizzards by mistake. Oops.
Did some last minute packing at the hotel lobby (they have a rather big seating area at the back) and off we went to the airport! Took a cab this time since we had so much to carry. And checked in!
Last meal of Taiwan trip – airplane food! Personally I really don't think it's worth getting the food. Freaking expensive for such a small portion. Furthermore I saw people eating food they brought up (like Macs -_-).
Arrived back in Singapore after midnight and guess what we found!? My luggage was missing its 'legs', SSD's zip was dented, and MIL's had a huge crack. Well, silly us didn't think of reporting it at once, since it was so late already. The next day when we called, we were told that once we left the airport, we cannot make the claim anymore. Like WTF lah. *Pui* So if you happen to kena (touchwood), make sure you report immediately!
Sigh. It took me almost a month to finish blogging about the trip. Can't say I felt very enthusiastic about it. Not exactly a waste of time but I didn't exactly enjoy it either. Like seriously, who on earth goes on a honeymoon with the mother-in-law? Oh wells, guess I just have to look forward to Hong Kong next year. =(
~ * ~