Today marks the 365th day since I
brought Popo home
. I used to joke how she's my valentine baby, since it's a day after v-day. And indeed, she has brought me a year of love, fun, and laughter. <3<3<3
If you don't already know, she's a one-person dog and I feel so so fortunate to be that one person! *haolian* It's an amazing and special feeling to have your dog so bonded to you; I've never experienced it with Bobby. I really hope it will remain this way LOL. *selfish*
Probably that's why I also feel so attached and protective of her. She's like my daughter. Her physical health, her mental wellbeing, her emotions......I just want to give her the best (that I can afford). It feels like my heart is just bursting with love everytime I think about her. (Shit is that what they call, maternal love?)
I guess I'm exaggerating. But doesn't anyone feel like this too? I can't be the only weird one?! Oh wells.
Anyway. Some milestones in our first year together!
Switched her from kibbles to 95% raw (5% goes to the blanched salmon and hard-boiled egg)
Started her on supplements
From totally untrained to basic trained
Her being the cutest ringbearer ever in our ROM
Swimming for the first time
Her first official outing to Marina Barrage + first attempt at socializing
Our goals in the next year.
Upgrade her meat quality (Please rain money!)
To participate in a doggie gathering
To let her try out agility
Most importantly, to socialize her!
I bought her a box of valentine cookies from
Pawlicious
last week. The happy girl with her present. The cookies are supposedly made with purpleberry, blueberry and cranberry. I tried it myself (Popo can't finish all herself) and they were not bad. Though I don't really like having flour in her diet, so I guess first and last time.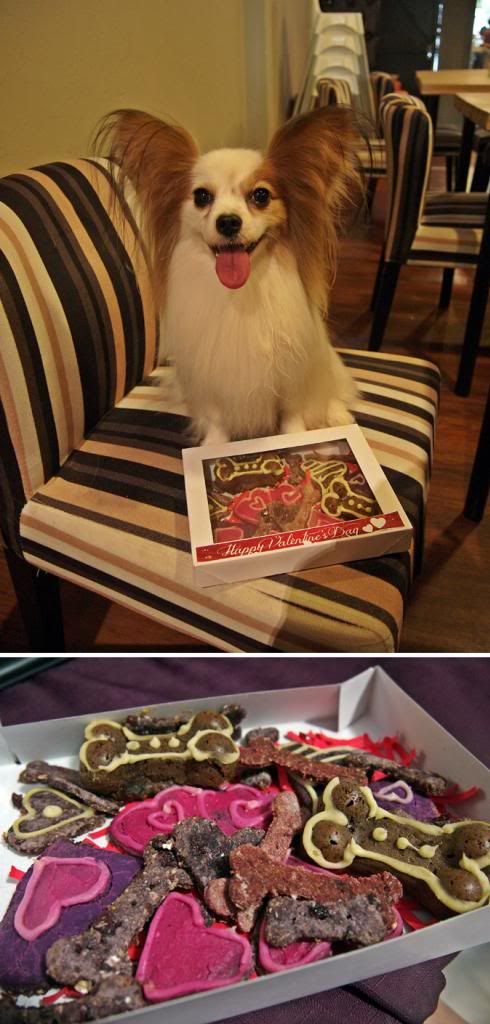 Happy anniversary baby! And many more years to come! <3
(SSD don't jealous okay? It's a different kind of love lol.)