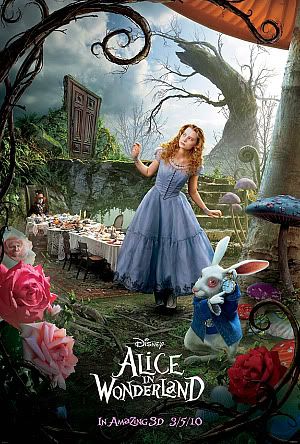 there is a place. like no place on earth. a land full of wonder, mystery, and danger! some say to survive it: you need to be as mad as a hatter.
lol. watched tim burton's alice in wonderland today. actually i only watched it cos PL said it was worth watching. i don't even remember reading this story when i was young. but even though i had no idea what the mad hatter and grinning cheshire cat was about, i enjoyed the movie all the same.
despite the fact that story was a tiny bit slow and draggy, the stunning visuals and dramatic set pieces made up for it. plus some dry humor. ("will you stop doing that?") lol. the animals are sooo cute too! baby hedgehog! awwwww.
:D
came home early to watch F1. hamilton started 4th, dropped to 5th after the first turn, went back to 4th after the first pit stops, and overtook to finish in 3rd place. though i think it wouldn't have been possible without vettel's technical difficulties. oh wells. 2 more weeks to australian gp.  加油 mclaren!
2333