this time, SSD bought the package deal from groupon (although desaruff can offer the same thing), which included coach transport, hotel stay, day tour, and some meals. quite alright i suppose, considering we'll probably spend more if we went genting. total damage: ~sgd150 each.
short introduction. desaru is a coastal resort area in johor, malaysia. it is becoming increasingly popular with tourists, especially with the new senai-desaru expressway (SDE) which opened last year. the beach spans 22km, and with a variety of watersports and family activities available. nothing overly fancy; just a nice quiet place to relax and connect with mother nature. ahem.
day 1: fruit farm and fireflies tour
met at the flyer on friday morning and departed shortly after 9am. took the SDE and promptly arrived around 1130am? quite fast right?! we were told our first stop would be the fruit farm.
when we got off the bus, the first thing that greeted us was the
scent
of
dung
fertilizer. power one leh! must be freshly made. lol. and the amount of houseflies buzzing around was so horrendous that i hurriedly slapped on even more insect repellent. @_@ then the guide started showing and explaining to us the different fruit trees. but she went quite fast and i soon gave up trying to follow her, opting to focus more on photo-taking.
honestly, i've seen majority of the stuff before and it didn't quite interest me. i guess this tour is more for families hoping to educate their kids with something that can hardly be found in urban singapore. but i did learn something new though - if the banana flower points upwards, the fruit can be eaten. if it points downwards, the fruit is just for decoration purpose. although, if i had the space to grow a banana tree, would i waste it for decoration? hmmmmm.

the farm had a mini zoo, which got me more interested than the fruits. although i noticed the areas aren't very clean for the animals. ahem. there were more that i didn't shoot. like the ducks walking around, the monkeys, snakes, and rats. my favorite would have to be the snowy white bunny. super cute and fluffy and sweet and clean and pretty! lol.
they also have bunnies and ducklings for sale, which didn't really make sense since their main customer base are singaporeans. would people really want to purchase a bunny or duckie and go through all that quarantine trouble?

lunch was free flow fruits and an 8-course meal. quite alright; only had one chicken dish i couldn't eat. then sat in a mini bee talk. it was informative, as i found out about the whole process of royal jelly. it was quite disgusting lol.
sighh
. the things women do. =|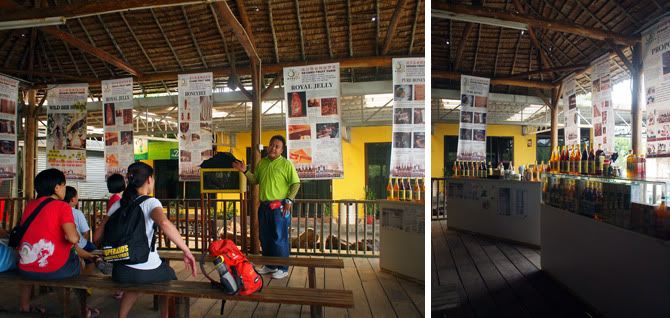 back to hotel next as we didn't have the ostrich or crocodile farm tour. didn't want to spend extra money hehehe. and so, we checked in at the
lotus desaru beach resort
. from the photos on their website as well as the reviews i had researched beforehand, i wasn't really surprised to see how much it looked like our hdb apartments. though i must admit the interior was slightly better than what i had expected.
we got a first floor, double story, one bedroom apartment, complete with living room, dining table, kitchen facilities, guest toilet, as well as the bed and another toilet upstairs. through the photos online, the bathtub was quite miserable so i didn't bring along my bathbombs. which was a pity because the tub turned out to be quite spacious and clean. argh!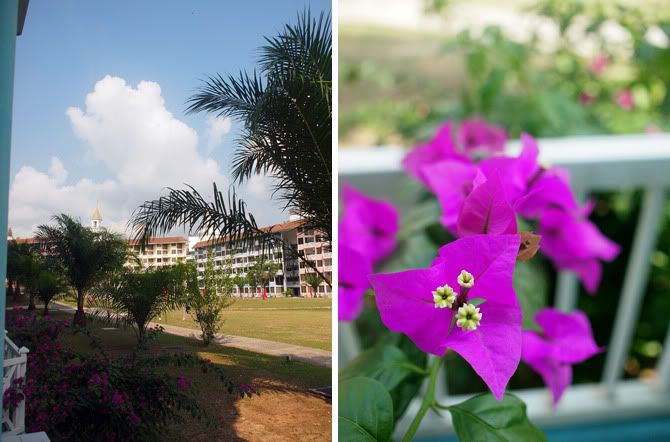 dropped by the beach for a while before it started raining. after we hurried back to the room, the rain stopped. -_-
love the feeling of wind in my hair, sand under my feet, waves crashing against my legs, and bringing away my troubles. for that moment only. lol.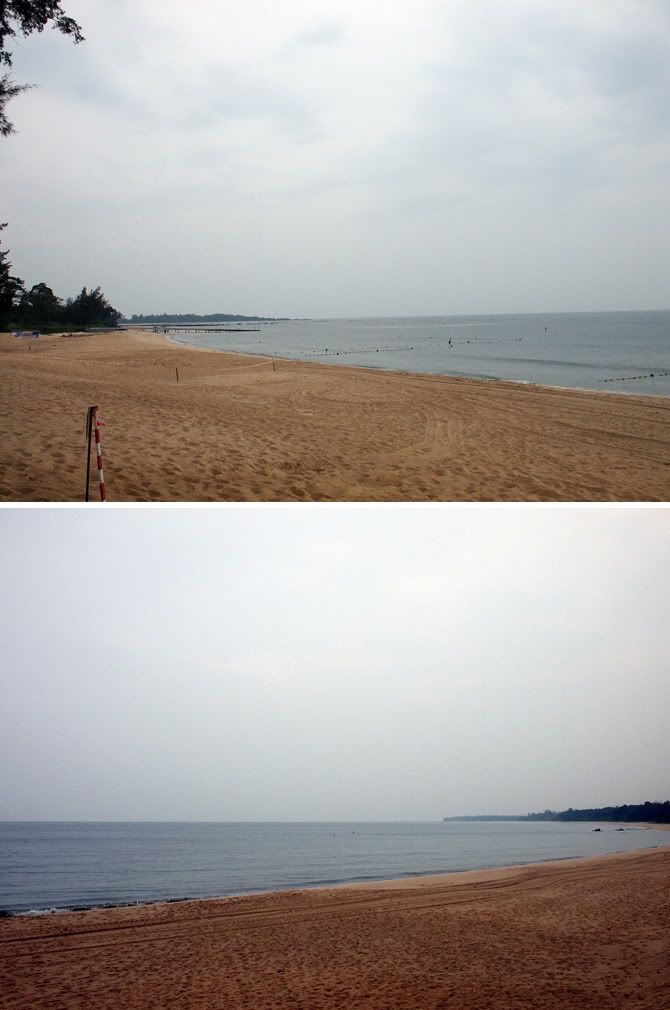 then went for dinner. which was probably the worst thing that happened this trip. i had read about this deal of 2 drinks + 1 pizza for 30rm and was very much looking forward to it. however we were informed that the deal was no longer available, so we chose their set menus. i took the malay set while SSD took the chinese set. then got a tom yum soup to share.
i had known not to expect much of the food but this was certainly below my expectation. the chinese set was just chicken rice while the malay set was briyani chicken, which was freaking spicy. i tried to eat the chicken, but i couldn't get past myself and had to pass all the meat to SSD. (damn poor thing he.) that, plus one drink, and fruits (which by the way, never came), cost 22rm++ each! at least i had some seafood from the tom yum soup, but it tasted quite yucky and so not tomyum-ish. hais.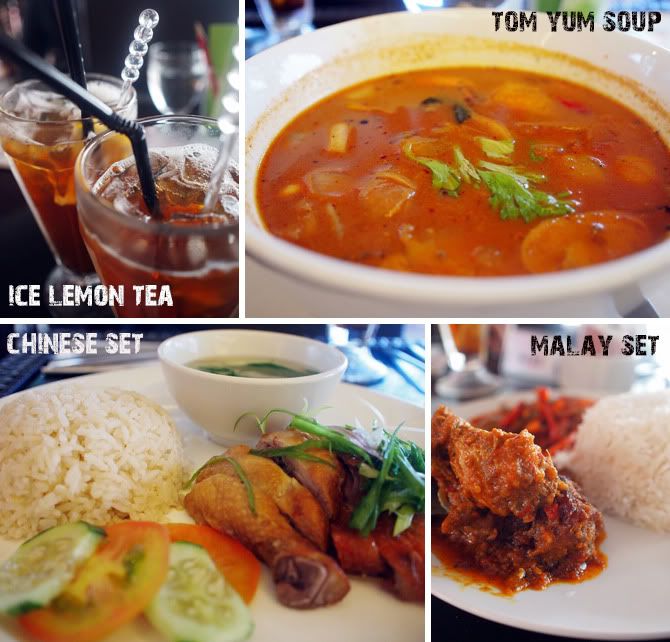 all the while we had dozens of houseflies buzzing around us. it got better after the fans were turned on, but when some persistent ones continued to pester us, the staff lit a candle to help chase them away. this, on the other hand, i have to commend. the staff were quite courteous and friendly. didn't really experience any bad service from the staff this trip. =)
last activity of the day was the fireflies tour. my first time! it wasn't included in the groupon package but the desaruff guide from earlier offered to take us there. we paid 40rm per pax inclusive of pickup from hotel, but you can probably get it cheaper at the counter there. i wouldn't recommend first-timers to drive there yourself though, unless you manage to tailgate the tour van. the road in is totally unlit and probably very easy to lose your way inside that maze. i also assume it's gonna be very scary driving in the dark if you don't know your way.
so we arrived at this kelong (where there is also a floating seafood restaurant) and given life jackets to put on. boarded the boat and soon we set off! lol i probably didn't look it, but i was very excited and therefore, no photos! lol just kidding. seriously who takes photos of fireflies?
cruised along the river (in near total darkness) with one of the staff flicking water at the nearby vegetation. AND THEN FIREFLIES APPEARED!! small shimmering specks of lights. it was absolutely amazing to see large groups of fireflies appearing all of a sudden. many oohs and ahhs could be heard when that happened. yes me one of them lmao. the staff caught a few and passed them around. another kind of amazement to see the tiny light on your hand (not mine, SSD's).
sigh. i don't know how to describe this experience. overwhelming? to see and be so close to such a simple yet magical part of mother nature. probably also because i had heard the story of how fireflies spend their lifetime searching for their soulmate, that makes this whole experience even more beautiful and emotional. mother nature, y u so amazing!!
(please don't catch and take the fireflies away from the area. their soulmates might be waiting for them.)
day 2: water theme park and home sweet home
buffet breakfast was significantly (imho) better than our dinner. simple fare, but they tasted pretty good. i should have ate more seriously. LOL.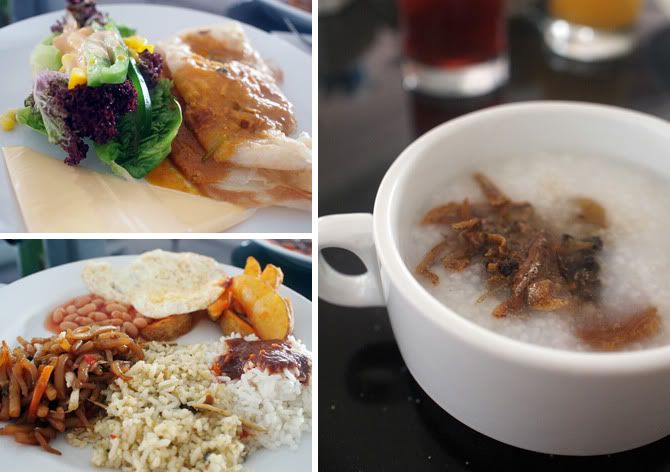 visited the water theme park. didn't look very fun, although the cool water did look inviting. the most famous would probably be the giant coconut, which was filled with water and overturned when it got full.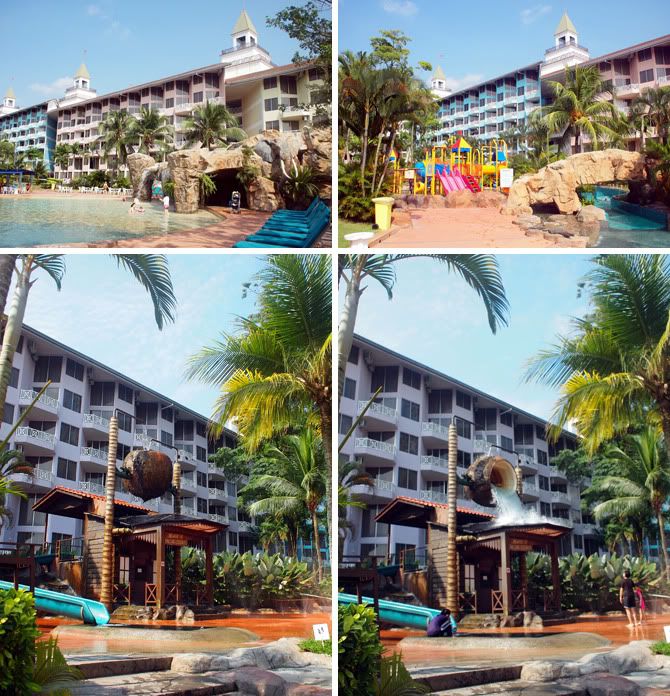 then nua-ed, slept, and watched tv before checking out at 1pm. loitered around the lobby for 3 hours before the coach finally came to take us back. overall, it was kinda too short for us to relax or enjoy the water. but i was glad to get out of singapore. now that i'm back, it's time to start worrying about...
things
again. boo.