Last Saturday we made an impromptu decision to bring the girl out. First stop - post office to collect my Sample Store parcels. It was an annoying 40-minute wait. I really think courier companies should switch to delivering at night and on weekends. How many people actually have someone at home all the time to receive stuff? Tsk.
Next stop, Marina Barrage again! Dabao-ed lunch from the cafe downstairs. Our second time, and the food was not bad really. :) Oh and a Malay family asked to take a photo of Popo lol. For a moment I felt like some superstar's manager. :P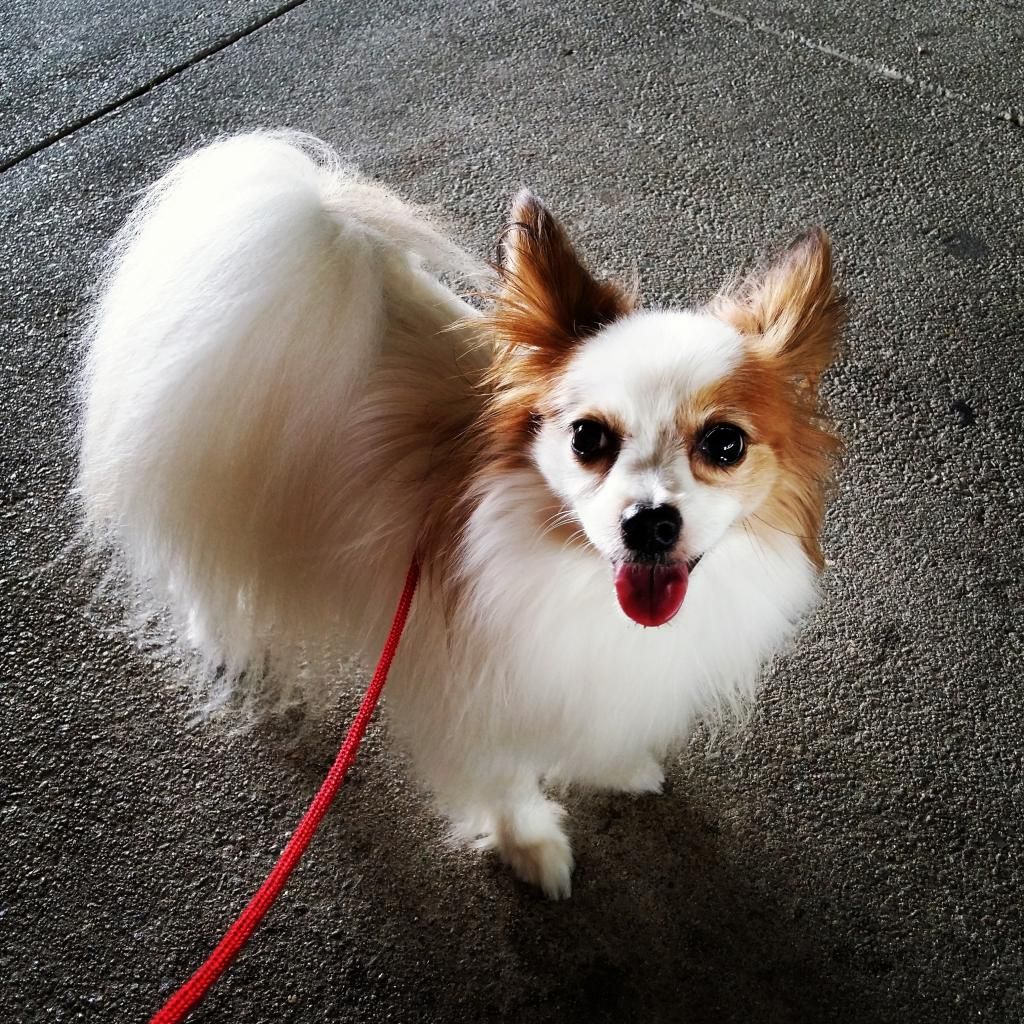 Anyway, it was a super hot day and there was some event going on. There were groups of kids playing games downstairs and the rooftop was occupied by some kind of competition. The larger side was blocked off which resulted in overcrowding of the other, smaller side. Thankfully we managed to get an area in the shade but it was right beside the entrance, so...human traffic was terrible. People stood around and blocked the wind. @_@ And hot me = pissed off me.
And to make things worse, a group of 3 young girls came crowding around us wanting to pet Popo. I don't like children, but normally I oblige. In this case, it REALLY ticked me off because they kept holding their hand out for Popo to lick. She's a licker so if you put your hand there, she WILL lick it. And that's something I hate. Who knows what crap stuff you touched? What if it was something poisonous to her? So I said loudly (many times), "NO, don't!" And....they continued stuffing their hands in her face for her to lick. Seriously, fuck you. No I don't care how young and ignorant you all are. Fuck. You.
Le sigh
. We left after a while and headed to Vivocity. Lucky I thought to bring along her bag. Or...perhaps I planned it. LOL. Definitely felt more confident carrying her around this time. Also because she was being an absolute darling by resting quietly with just her head poking out. Maybe it's because we got a couple of cooling pads from Daiso for her. Either she's too tired or she's more comfy with the pads.
We tried to enter Giant (again), from the second floor this time, but unfortunately I spotted the No Pets sign at the entrance. Funny we didn't get chased out the previous time. We entered Cold Storage to get some sushi for dinner. Didn't see any signs although I did notice a Malay couple who kept turning around and pointing to my bag of Popo. No idea if friendly or not; I sped to the counter.
Had dinner at the rooftop before heading home. And conking out. Lol.