Hi! Back from my short 5D4N trip to Hong Kong/Macau! It's my second trip there but I actually enjoyed this one a lot more, since I got to plan the itinerary and visited a lot more places. Weather was a bitch though. We thought it would be like 18-20 degrees, but it ended up being 14-16 degrees. I brought shorts, minis and slippers, so we actually could have enjoyed it more if we were more appropriately dressed. =(
Anyway, here's day 1. ^^

We arrived shortly (on Tigerair) before noon and the first thing to do - get data! Lol. Done some research and thus we headed directly to the 1010 shop at level 7. We got the one2free power prepaid card for HKD 88, which comes with 7-day unlimited data plus HKD 10 stored value (for emergency calls and stuff). Connectivity was better and faster than Singtel. =X Here's how it looks like.
Then we took the airport express train (HKD 70 per pax) out to Kowloon Station, where we switched to the free airport shuttle which stopped directly outside our hotel,
Metropark Kowloon
. Thankfully our room was ready.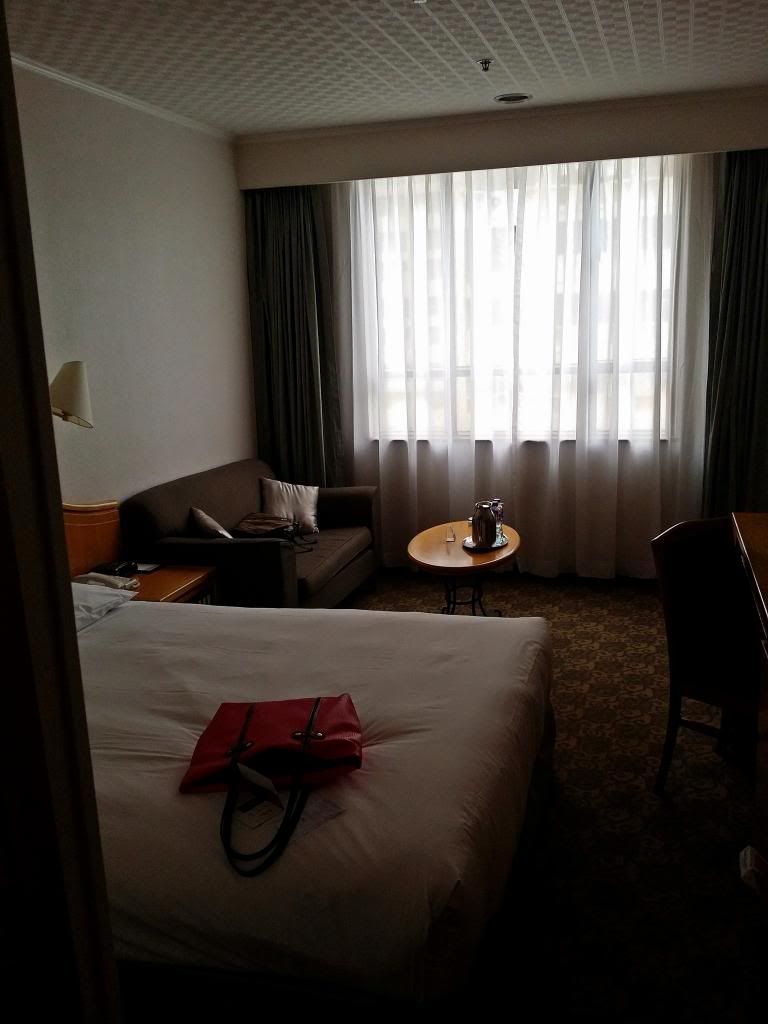 Nice and clean, and big enough for the two of us. We spent about SGD 667 for the 4 nights. Only complaint would be the lifts. One was down for upgrading, and the remaining three were slow max. And it was a 10-15 min walk from either Yau Ma Tei or Mong Kok Station.
So after dumping our luggage and a brief rest, we headed out for food! Spent some time finding our way to
Argyle Centre
. Had lunch at the basement. And that's when we found out the food was actually more expensive in Hong Kong. I miss Taiwan!

Briefly browsed through the 4 levels of Argyle Centre. It's like our Bugis Street. Most of the shops sell the same items but the way I see it, the prices are also almost always the same. Was looking for some long pants or covered shoes (cos it was so freaking cold) but ended up with a top and a pair of skorts. -_-|||
Then we headed to the
Goldfish Market
. It's basically just a street lined with aquariums and pet shops on both sides. They have lots of bagged fish and they actually look clean and healthy, at way cheaper prices. Just for that I wish I was living in Hong Kong LOL.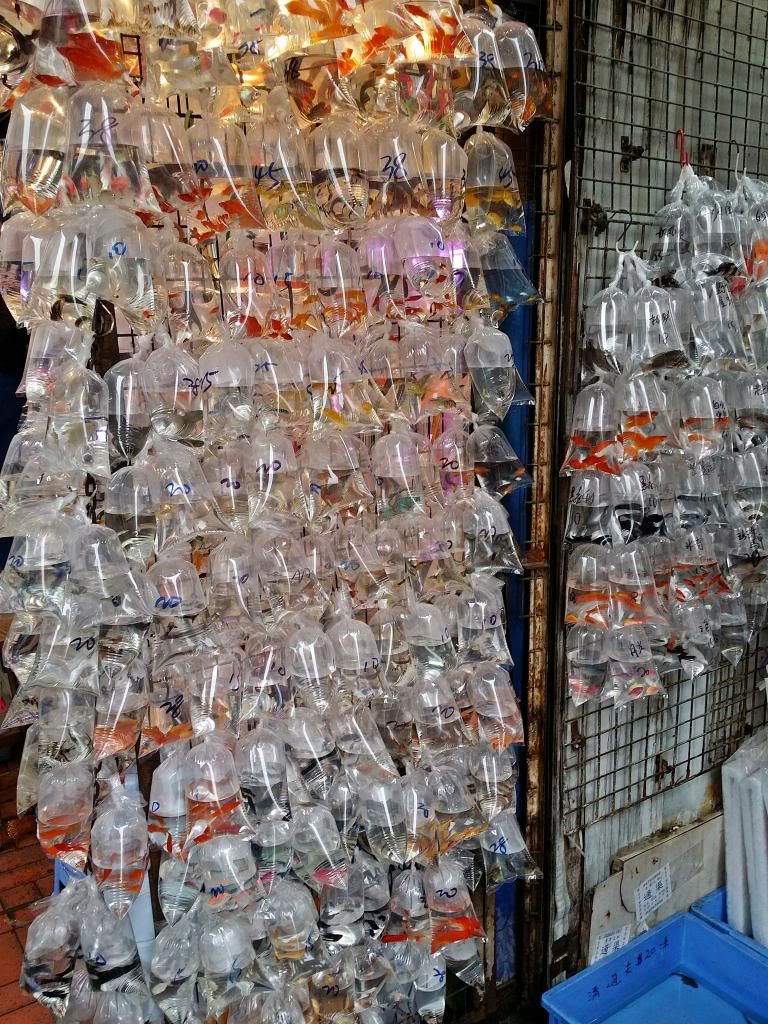 We entered in almost every pet shop and finally got a non-slip bowl and a toy for the girl. Prices are slightly cheaper but dehydrated treats aren't exactly very common. There are still a lot of commercial food and treats on the shelves. Boo.
And I found my 臭豆腐! It's very common in Taiwan but this is the first and only time I've seen it in Hong Kong. And SSD's
shark fin
. =X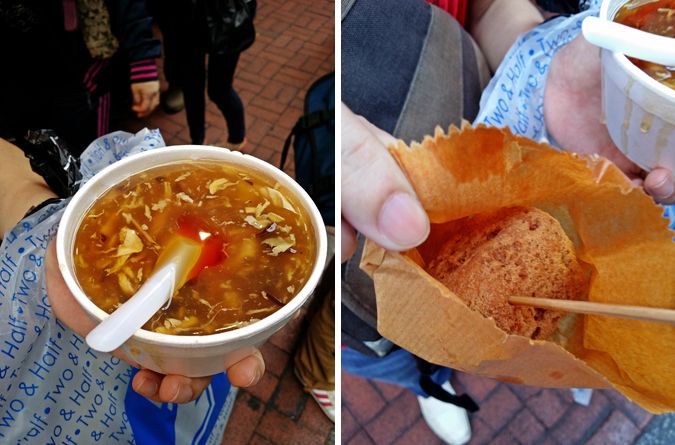 Made a brief walk through the infamous
Ladies' Market
. Just 2 rows of stalls selling almost identical stuff, with a too-narrow walkway in between. I remember the prices used to be exorbitantly high to 'cheat' tourists, but it seems like they've toned down quite a bit. SSD got his jacket there cos he forgot to bring his HAHAHA! And unfortunately we suck at haggling.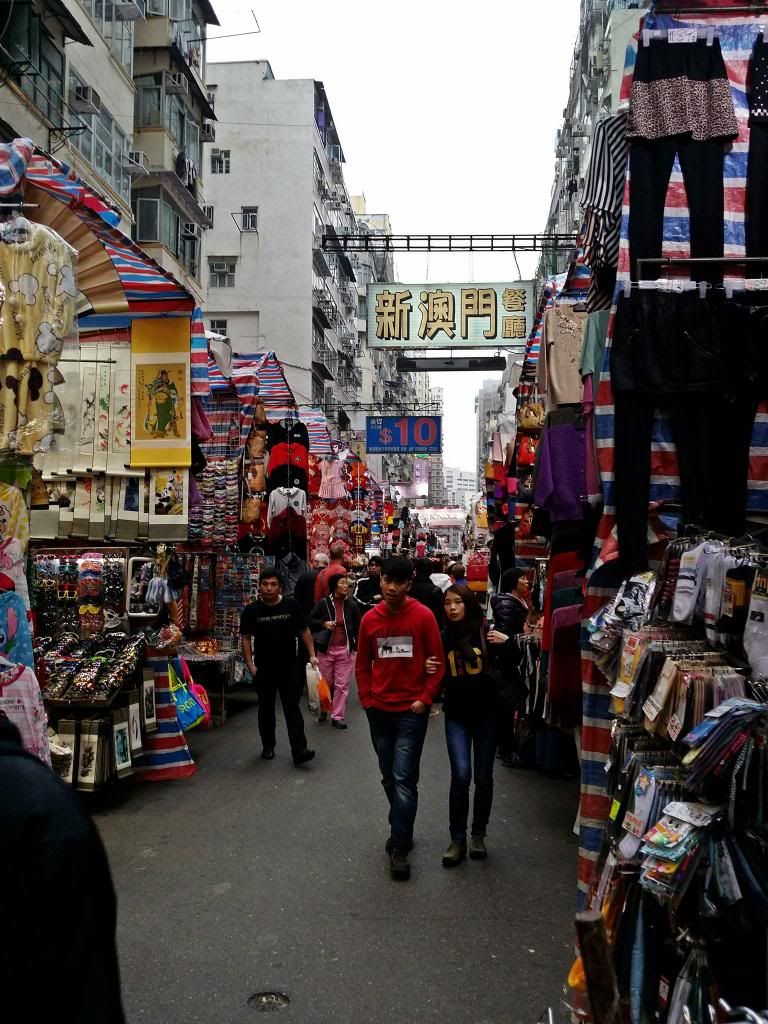 All these were in the Mong Kok area so it was very convenient to walk from one to the other.
Next stop -
The Peak
! Took the MTR to Central Station, then walked about 5-10 mins to the tram station. One way peak tram is HKD 28, and can be paid through the Octopus Card (albeit a little more expensive). We didn't get to visit the sky terrace cos it was super misty and I was freezing. This is how it looks like outside.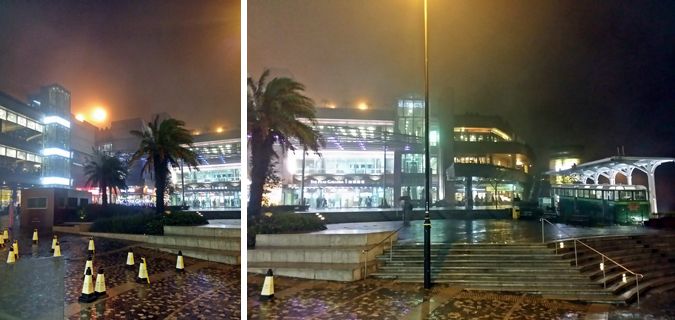 Got Genting feel? Haha. Had dinner at the cafe just outside the exhibition. I guess we ordered the wrong stuff cos others looked so much more appetizing than ours. Tried the hot coke with lemon for the first time as I was nursing a runny nose. I thought it would help. It didn't. Tasted quite nice though.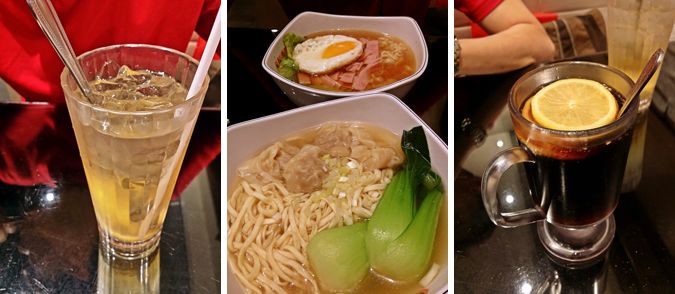 Bill came up to HKD 150. This is what I meant by expensive. X_X
We bought the
Madame Tussauds
couple package online for HKD 399 (plus free photo frame). Much cheaper than if we got it there at the counter. It was my second time there and to be honest, it wasn't interesting both times. SSD looked a bit bored too. But at least now he can say he has been to the wax museum. LOL!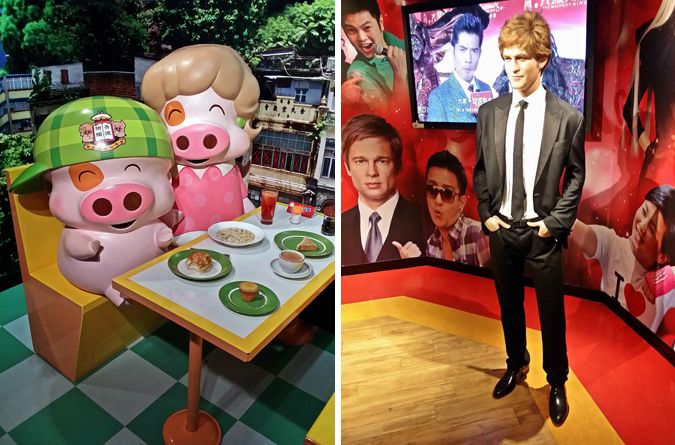 My loots for the day! ^^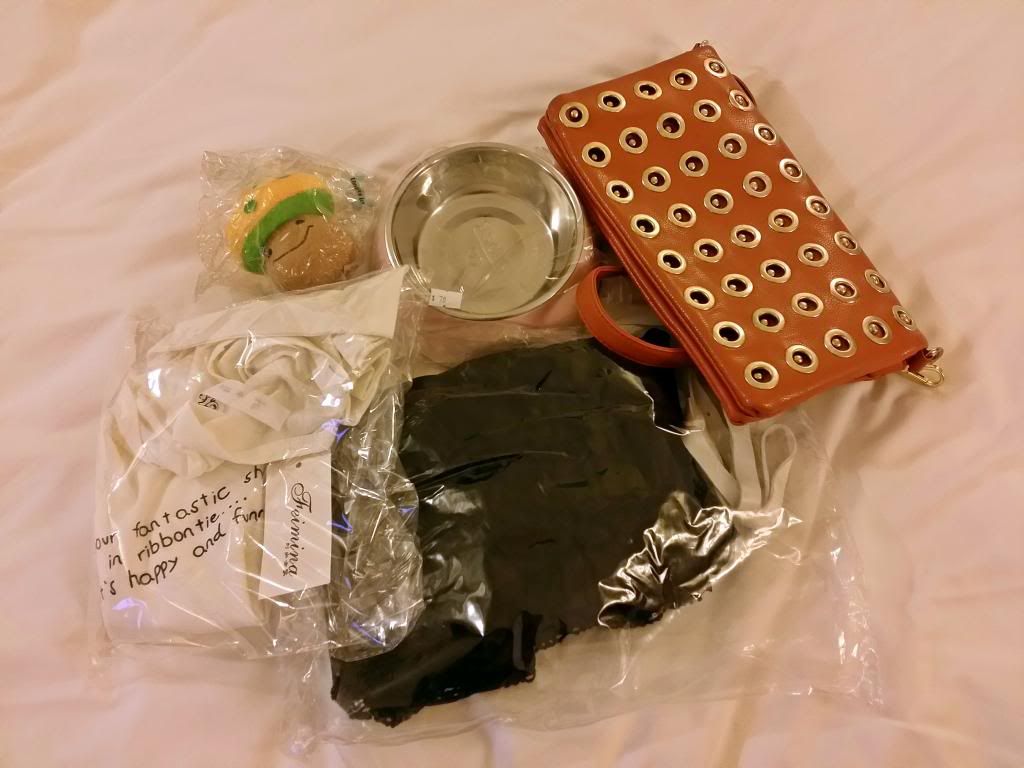 ~ * ~