I have been using several Hada Labo products and the next one I'm gonna share is the new 3-in-1 Arbutin Whitening Perfect Gel. This gel boosts 3-in-1 skincare product benefits of Essence + Moisturizer + Paper Mask! And it's fast absorbing and non-greasy. Sounds cool?

It contains 3 trinity efficacious ingredients that penetrate within and work on the skin synergistically:
Natural Arbutin: High concentration levels at 3% of Japanese pharmaceutical-level Arbutin to offer effective whitening results. Enhances skin fairness and targets dark spots.
Efficacious Vitamin C Concentrate: Proven anti-oxidant enhances collagen production, inhibits the appearance of dark spots and reawakens the appearance of dull skin.
Hyaluronic Acids (HA) and nano-Hyaluronic Acids: HA is a natural component found on skin. The duo-HA molecules instantly hydrate and lock-in moisture, keeping skin soft, smooth & bouncy.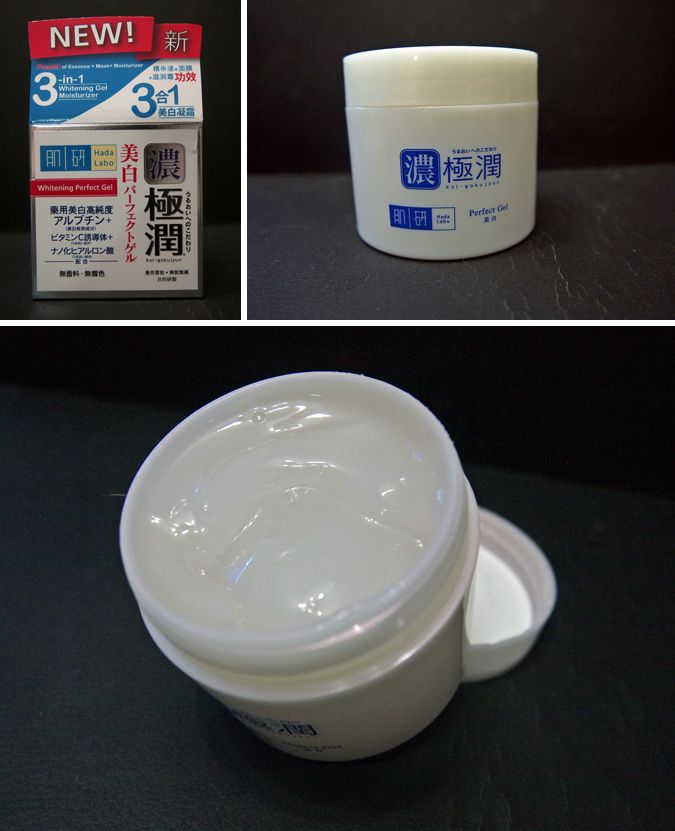 My take on it: First things first - love-hate relationship with tubs like this. While it allows us to fully use up all the gel inside, it's really really unhygienic to dig in with my fingers. Anyway, I use it as a sleeping mask. It takes some time to get absorbed but I like that it doesn't become very greasy. The next morning I can feel my face nice and hydrated. Don't really see much whitening effect though. =X
Want to win this product? Look out for the Hada Labo 3-in-1 Arbutin Whitening Perfect Gel Snow Princess game on Hada Labo Sg
Facebook page
and stand to win! You can also get a free Hada Labo Arbutin Whitening Lotion sample on SampleStore.com. While stocks last!
This 3-in-1 Arbutin Whitening Perfect Gel is sold at BHG, Guardian, NTUC, OG, Robinsons, Sasa, Unity, and Watsons. Only $38.90/80g!