A continuation from Day 3.
And we're moving AGAIN! I think my energy went to lugging the heavy luggage around lol. Caught the bus back to the HSR station, and an hour (and NT700) later, hello Taipei! Bought yummy salmon bento from Sushi Express to eat on the train. I love the fact that SE is everywhere in Taiwan. We only have 3 miserable outlets here. Also ordered HSR coffee and it was probably one of the worst ones I've had in my life. In fact I haven't had any nice coffee in Taiwan at all!
We stayed at CityInn II (NT2590, SGD112) again for the next two nights. I'm starting to enjoy hotel stays after staying at 民宿s. Tsk. Rooms weren't ready yet, so we popped right out and headed over to Tamsui. It's about a 40-min metro ride away from Taipei Main Station.
The streets look the same as when we last came. SSD said I could even reuse the photos lol.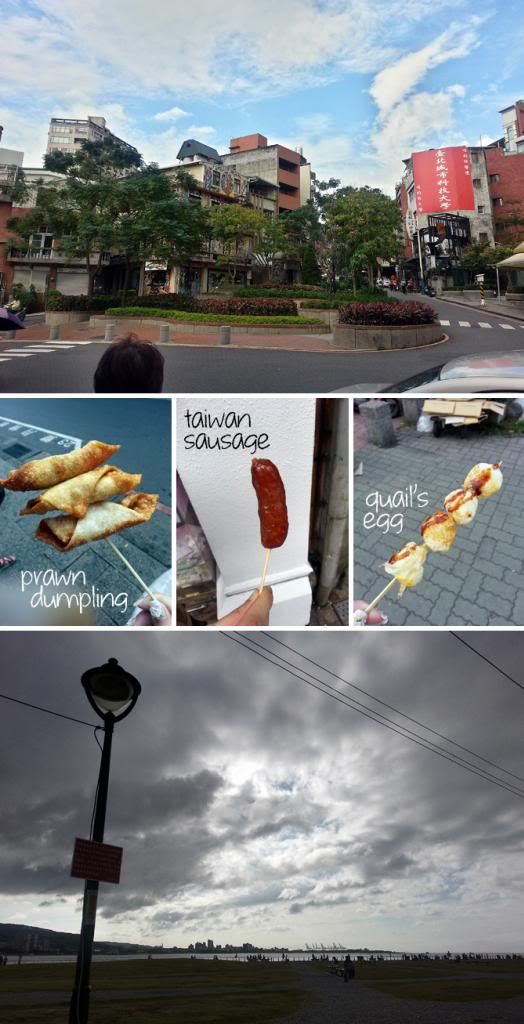 After we had explored enough, we started our search for my Cat Rain Café. It's basically a café with cats roaming around. It was so freaking hard to find we went around in circles. Finally, after asking so many people, we found the back door. Now aren't you glad you're here? Do you know where the front entrance is? Right in the old street. -_- We probably passed it 3-4 times. I can't remember what the shop front is selling, but it's not cat-related. The café banner, on the other hand, is hung high up. So if you're interested, pay attention to the top of the shops to locate the banner! =)
There's an 'entrance fee' of NT100 (SGD4.30) per person, and can be offset to a certain amount if you purchase drinks. We ordered 2 drinks and still had to top up. Not very worth but I suppose it will go towards the animals' upkeep.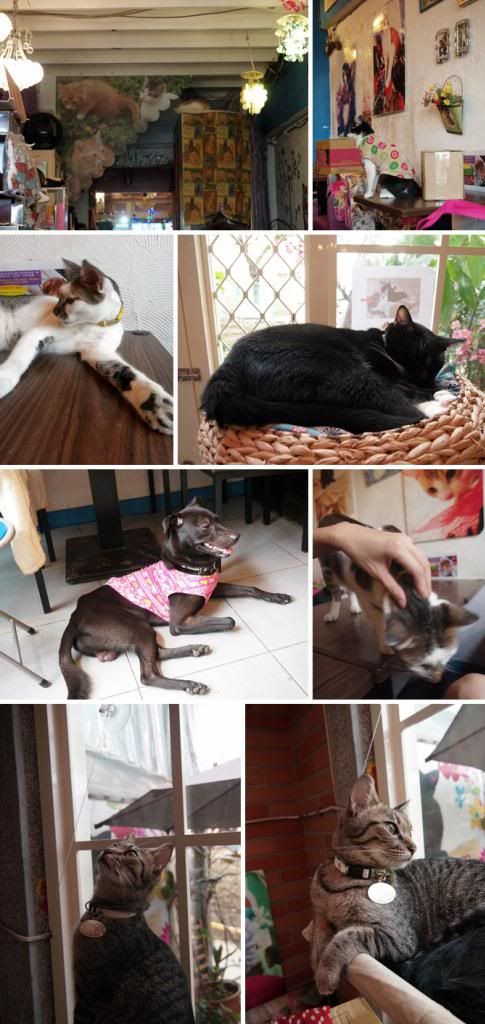 To be honest, I can't say I love cats. But I don't dislike them. It's a love-hate feel. The cats here are rather…aloof. I had read that in other cat cafes, they offer toys to play with the cats, and the cats actually come and sit on your lap or something. Those in this café didn't. =( They also have several dogs too.
After the furry afternoon tea, we headed for our last destination – Fisherman's Wharf. SSD initially wanted to take the bus there cos it's cheaper. But the café owner suan-ed him, so we got to take the ferry! Our round tickets cost NT120 (SGD5.20). That's not the cheapest there. ;)

Lovely sights, lovely sky, lovely breeze, romantic atmosphere. No wonder it's called 情人橋. Lingered for a while more and when it got too cold, we retreated into the warmth of a very family-style restaurant. Simple (and cheap) dinner!