you must have heard the latest news about golden village (GV). their newest multiplex (costing S$6 million to build) is located at farrer park's city square mall, and features cutting-edge technologies that enhances the film going experience.
it has 6 auditoriums, one of which is the unique and intimate "couple's cinema". all the 6 cinemas will have stadium seating (i like), ample leg room (important for long-legged people like me), wall-to-wall digital screens with crystal clear 2K digital projection, 7.1 dolby digital sound and premium-grade EAW speakers.
this state-of-the-art cinema also boasts several features to enhance the cinema experience. look at this: singapore's first auto-gate system via a confirmed booking code sent to moviegoer's phone. so high-tech! :P the next feature probably won't affect us moviegoers but GV city square has adopted this theatre management system that apparently can control all the digital equipment in the multiplex. honestly, i don't need to know as long as the movie doesn't get disrupted and starts more on time! lol.
GV city square also aims to stand out with the launch of their "i run the cinema" campaign, which includes:
book early & pay less - enjoy ticket price as low as $5 when you book early
create my snack pack - choose any 2 items for just $8.50
premiere my own production - screen your home-made videos on the big screen
pick a movie to be screened - decide which movie to be played
thanks to GV/OMY, i was one of the 25 lucky bloggers to get a pair of tickets to watch breaking dawn part 2 at this new cinema! mega awesome cos i get free ticket, for a movie i've been waiting a year for, and get to watch it on nice comfy NEW seats! last row seats somemore, even though we weren't the first few in.
saw many people armed with cameras but.......so pardon the crappy phone photos. =X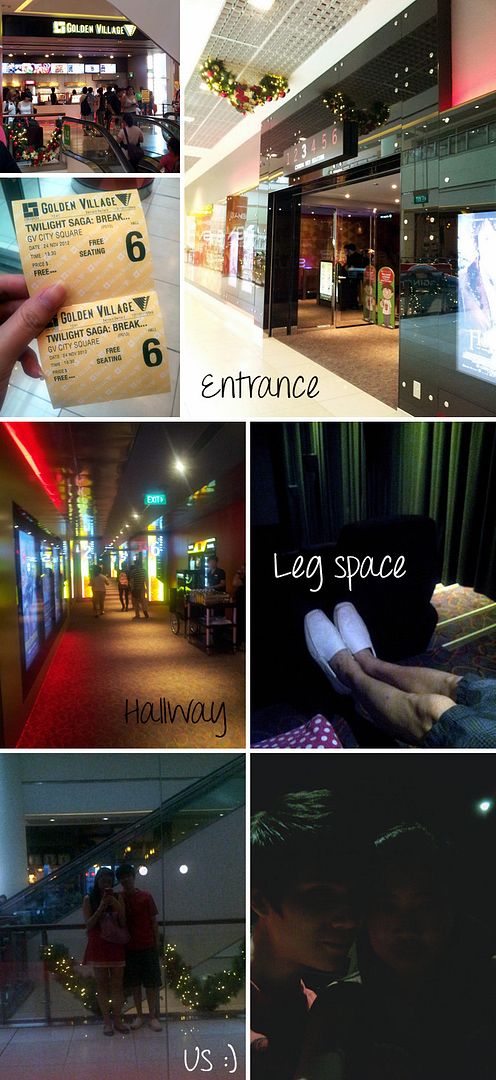 the thing i like most about this cinema is probably the leg space. i can almost stretch my legs all the way out. definitely can keep criss-crossing without hitting the person in front. glad that the stadium-seating also includes the last row, because many times we have booked the last row only to realize the second-last row is just a few inches shorter. i hate seeing people's head. tsk.
overall, it was a lovely movie experience. of cos made better by the awesome movie (but i shall leave that for another post after i watch it again this week). so if you're in the area, why not drop by GV city square for a movie? =D