thank you sana for yet another sponsored item! this time, it's something which i've been wanting to try for a long time - a proper makeup primer. and it comes in this cute little bottle! =)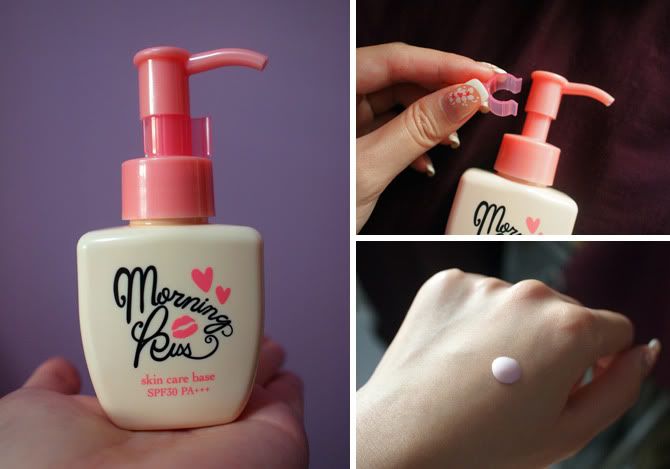 it's called skin care base because, well, that's what it is - a make up base as well as a skin care product! it contains the amazing vitamin B12, which not only brightens your complexion and covers discoloration (light diffusing pearl effect), but also relaxes your skin! good riddance to problems such as wrinkles and outbreaks caused by stressed skin.
besides that, it also has coffee and tomato extract to moisturize, and artichoke extract to firm. the spf 30+++ provides sufficient UV protection on normal days so i get to skip my sunblock. and to top it off, there's a sweet floral scent as well!
i received the product on halloween (31st oct) and immediately started using it the next morning. when i pumped it out (slightly smaller than 5-cent coin), my first thought was, "WAH LOTION AR?!" because the texture looked thick. but it was actually pretty lightweight and quite easy to apply. the scent wasn't very distinct though; good for people who prefer their products unscented. also i choose to believe it has helped with oil control cos at the end of the day, my makeup remained more matt and smooth than before. lol.
after using it for 2 days (got deadline to post review), i have found...no significant difference to my skin. =\ but of course i'll continue using it since it helps my makeup to look better. hopefully i'll see results soon!
i believe it retails at $29.90. worth getting! =)
... ...